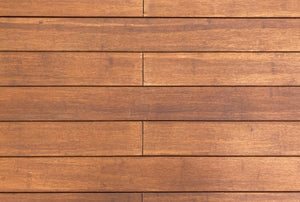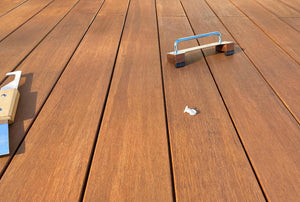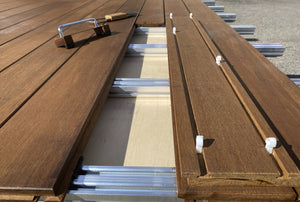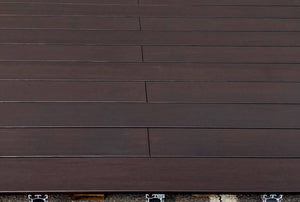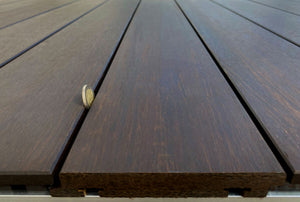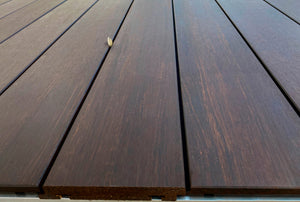 Exterpark bamboo is a sustainable fast growing natural deck choice. After our processing, bamboo deck boards achieve the highest possible density in a natural wood. Above 1200kgs/m3 making it a sure bet for both domestic and heavy duty use. 
100% natural, just as nature intented. Available in 2 shades: carbonized and natural. 
Wood features
Botanic Name: Tribe Olyreae (herbaceous bamboos), Tribe Bambuseae (tropical woody bamboos), Tribe Arundinarieae (temperate woody bamboos).


Commercial Name: Bamboo

Location: China

Wood Fitness: Hard and dense wood types which are stable and suitable for outdoor exposure

Hardness: 70.4Gpa
Grain: Interweaved
Colour: Light brown and carbonized brown
Density: 1200 Kg/m³
Technical specifications

Board Size: 20mm x 137mm x 1855mm
Weight (per sqm): 20,6 kg
Board Type: Bamboo
Surface Texture: real bamboo texture
Fixing Methods: magnet system or traditional system
Material Composition: 100% bamboo
Static Bending: 91,5 Mpa
Certifications: FSC, LEED points, Green Label SINGAPORE
Full range of compatible accessories

Sustainable FSC product
Installation

The Magnet System Installation
An advanced mechanical locking with a superior grip that holds boards stronger than a screw but yet flexible to open up and close again when necessary. 

Cost-efficient:
Easy: No screws

Fast: No predrilling

Silent: No tools
Total accessibility:
Maintenance-friendly

Easy substitution of boards

Enlarged service live

Relocation possibilities 
Exterpark Bamboo Decking is an advanced outdoor flooring system that is by far the fastest decking in the world to install due to using our patented Magnet System. It is capable of transforming any indoor or outdoor surface in 100% accessible. We have created the first mechanical locking for loose boards, avoiding access panels and being able to access anytime anywhere with a single spatula. View more magnet installation system videos tutorials. 
THE TRADITIONAL INSTALLATION SYSTEM
Alternatively, Exterpark decking can be also laid by using the traditional installation system. View more traditional installation help. 
Invisible profile 
Exterpark Bamboo Decking is the most possible solid platform for a long service life and performance of the product:

Patented invisible profile with no visible gaps
100% accessible boards
Easy maintenance
More solid
More stable
Greater wear surface
More resistant and durable
Arguably best decking available with 2 patented innovations:

Patented invisible profile with no open gaps
Screwless installation patented magnet system with 100% accessible boards
Cleaning & maintenance
Questions About Cleaning?
We're here to assist you with videos, guides, and more. Exterpark surface is cleaned under high-water pressure. No chemical or soaps should be used, nevertheless if requested, it should always be a neutral pH soap. View more cleaning help. 

Questions About Maintenance?
Finishing any exterpark installation requires a smooth sanding and oiling for a perfect finish. With sanding, any small irregularities and dirt that has been accumulated during installation will be removed. Additionally, sanding opens the pores of the wood, allowing it to be more receptive towards the oil treatment. View more maintenance help.

Warranty & Delivery
The Best Warranty Coverage
See full warranty details.

Delivery
Exterpark endeavors to dispatch all orders within 1 working day however we advise that you should allow 3-5 working days for delivery after you have ordered. After your order has been picked our service team will contact you with a suggested delivery date and the approximate time and discuss any special requirements that you may have. We will generally call you on the day of your delivery to confirm all details. For more details click here.
BUILD YOUR DECK LIKE YOUR KID BUILDS A LEGO
GET INSPIRED
See our reference projects to help you choose the right wood, composite or bamboo decking for your outdoor space project.